Tiramisu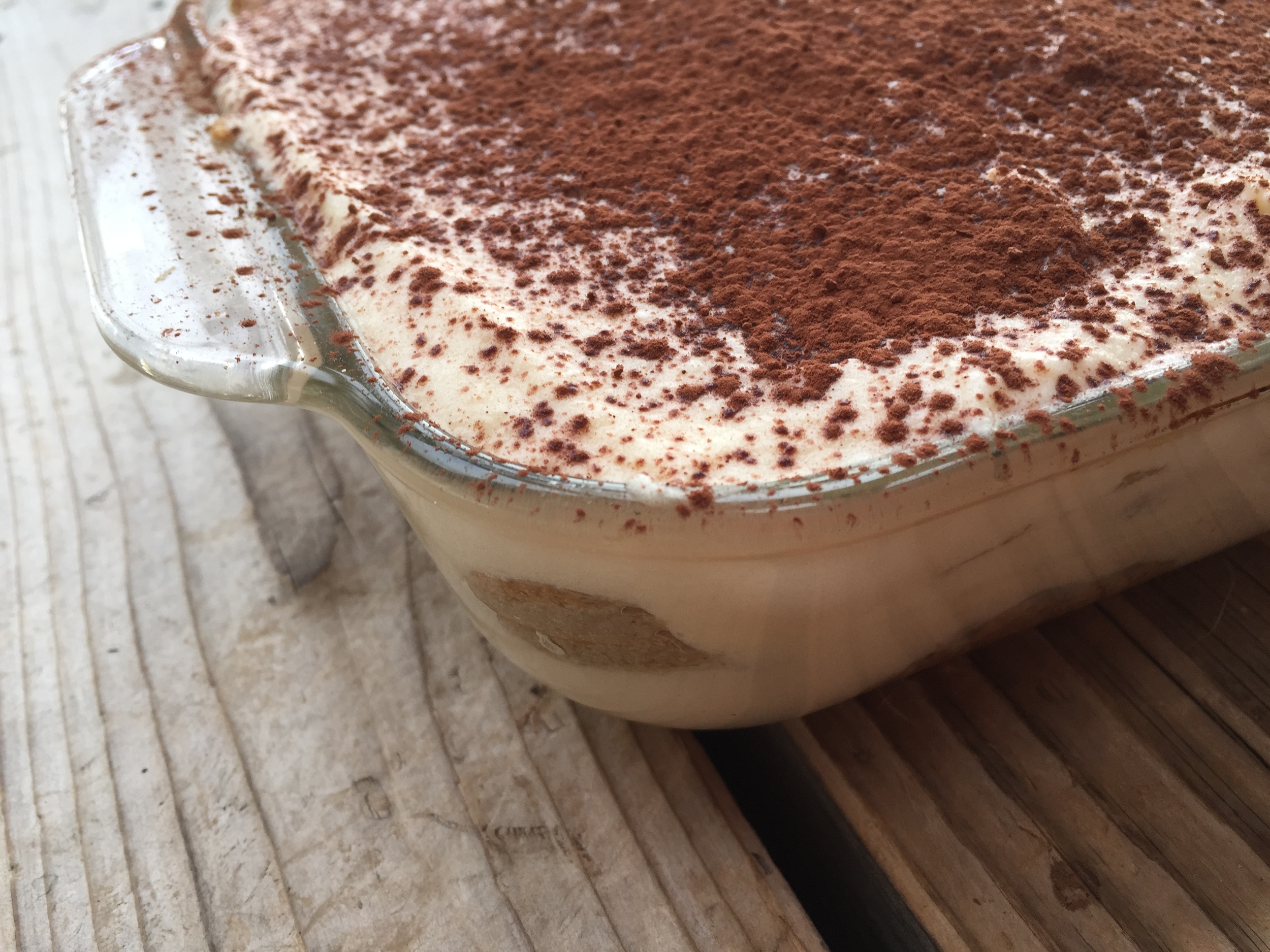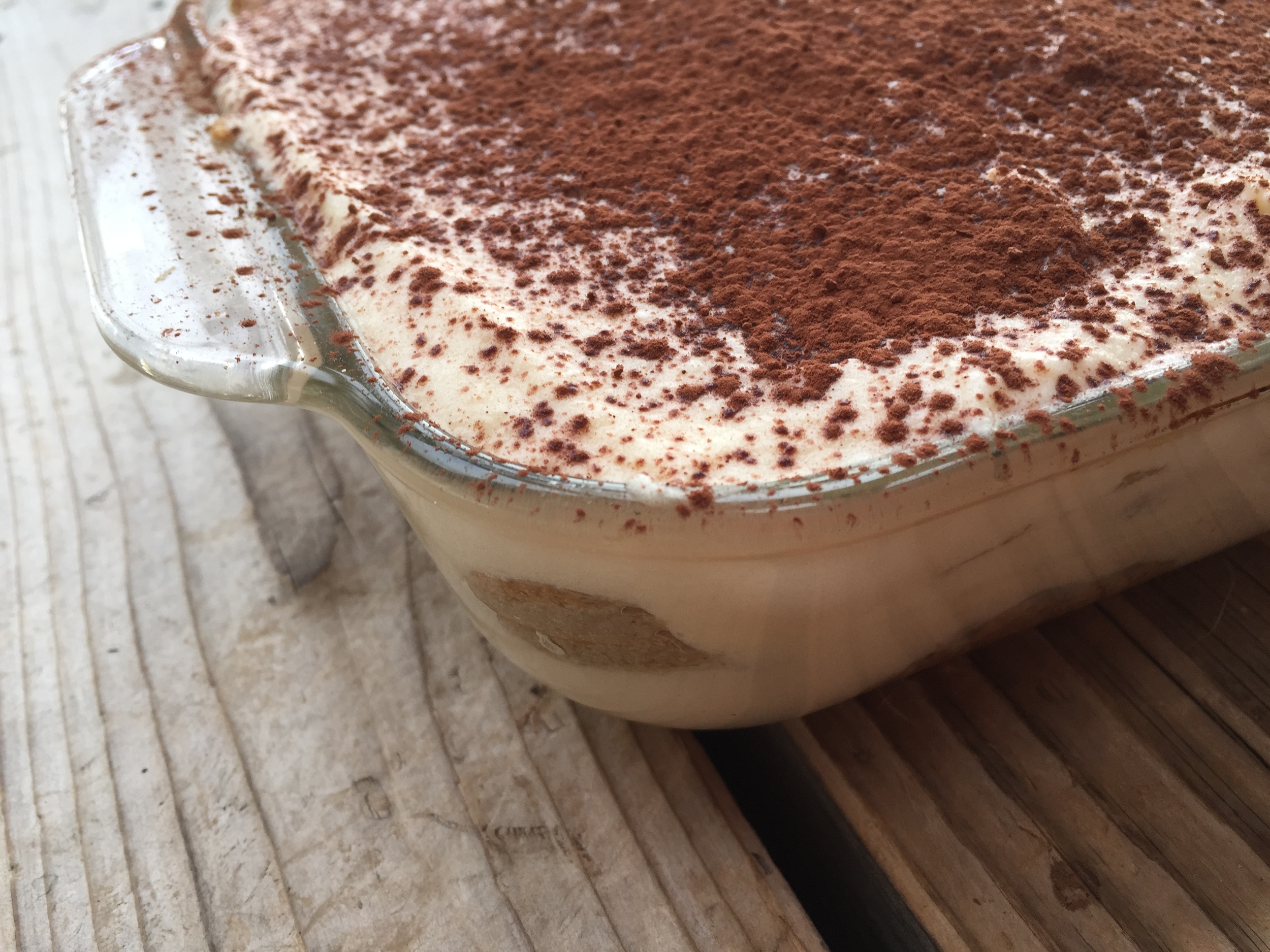 Tiramisu
Quite possibly one of my all-time favorite desserts is a tiramisu but is has be "boozy" with lots of espresso. This recipe is just that, fully caffeinated and boozy!
Yield: 8 – 10 servings
Oven: N/A
Preparation time: 25 minutes
Cook Time: 4 – 24 hour refrigeration
5 egg yolks, lightly whisked to break yolks
2 tablespoons coffee liqueur, best quality possible
1 cup granulated sugar
1 tablespoon pure vanilla extract
3/4 cups heavy cream
3 cups (24-ounces) mascarpone, room temperature
1 cup freshly brewed strong espresso, room temperature
1/2 cup brandy
30 Italian ladyfingers
1/2 cup unsweetened cocoa powder, best quality possible for garnishing
Method:
1. Lightly butter or grease a 7x11-inch baking dish and set to the side.
2. In a heatproof bowl set over a pot with a few inches of lightly simmering water, add egg yolks, coffee liquor and sugar. Make sure the bowl is not touching the simmering water. Lightly and constantly whisk until the contents have thickened and reach ribbon form, approximately 8 minutes. Remove from heat and add vanilla extract and mascarpone whisking until smooth and evenly combined.
3. In a separate medium size bowl, use an electric hand whisk to beat heavy cream until stiff peaks form, approximately 4 minutes.
4. In 3 additions, gently fold whipping cream into egg mixture until evenly combined and smooth being careful to not over-mix.
5. In a medium size bowl, add espresso and brandy. Lightly dip ladyfingers in espresso mixture ensuring they are fully coated but not soggy. Place in a single layer across the bottom of the prepared baking dish (total of 15 ladyfingers). Add 1/3 of the whipping cream mixture to cover then top with 15 more espresso and brandy dipped ladyfingers. Generously cover with the remaining 2/3 of whipping cream mixture.
6. Cover with parchment paper (to prevent plastic wrap from sticking to the whipping cream) and securely wrap with plastic wrap. Place in refrigerator overnight, ideally, or at least 4 – 6 hours and chilled.
7. When ready to serve, dust the top with cocoa powder and cut into desired size pieces.
Kitchen Note: If you would like to make tiramisu in a different size baking dish, by all means do so but keep in mind more ladyfingers and whipping cream will be needed to keep a super moist and delectable consistency. When dipping the ladyfingers in the espresso mixture, make sure you do so quickly or they will get too soggy and deteriorate in the bowl or your hands.