Peach Cobbler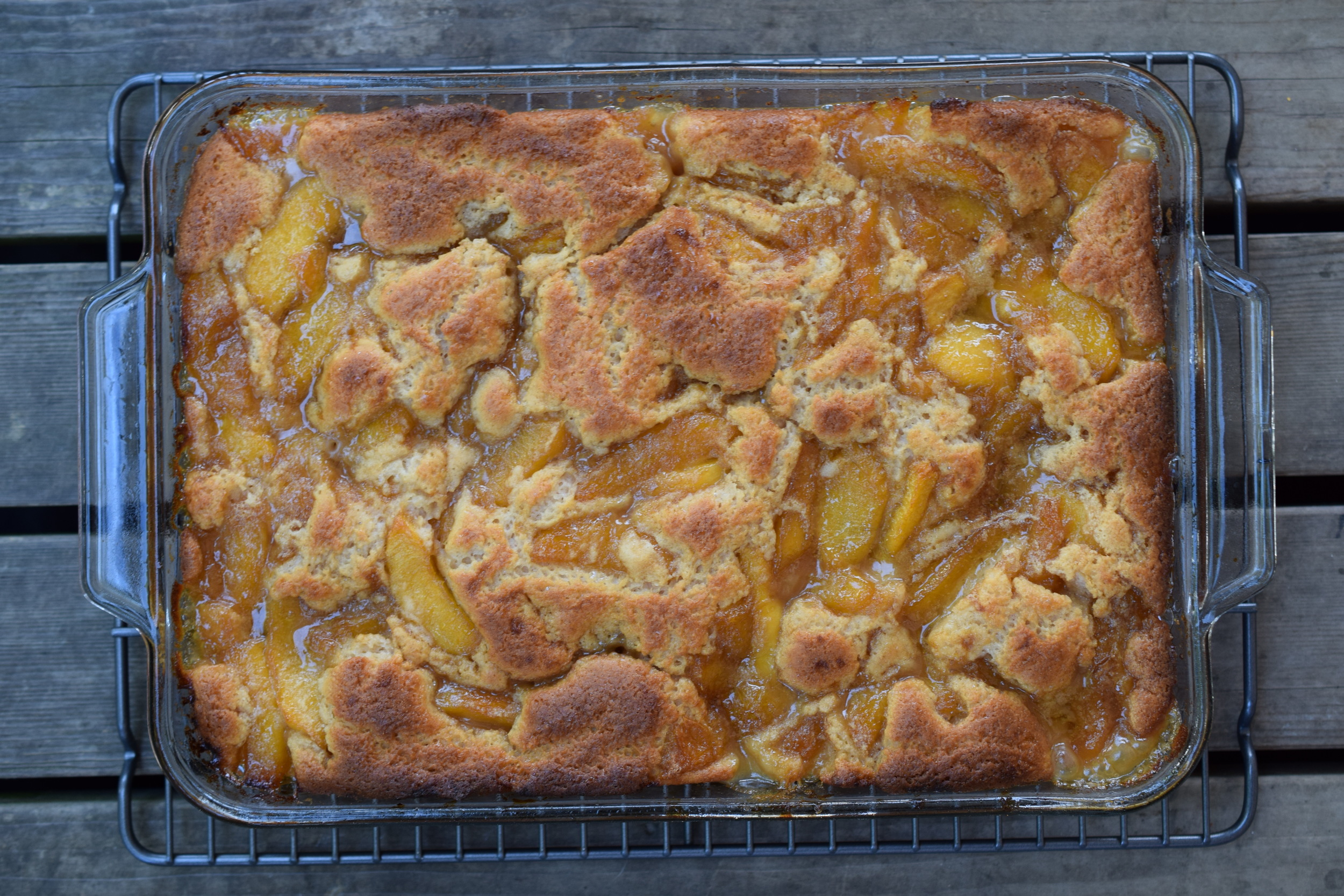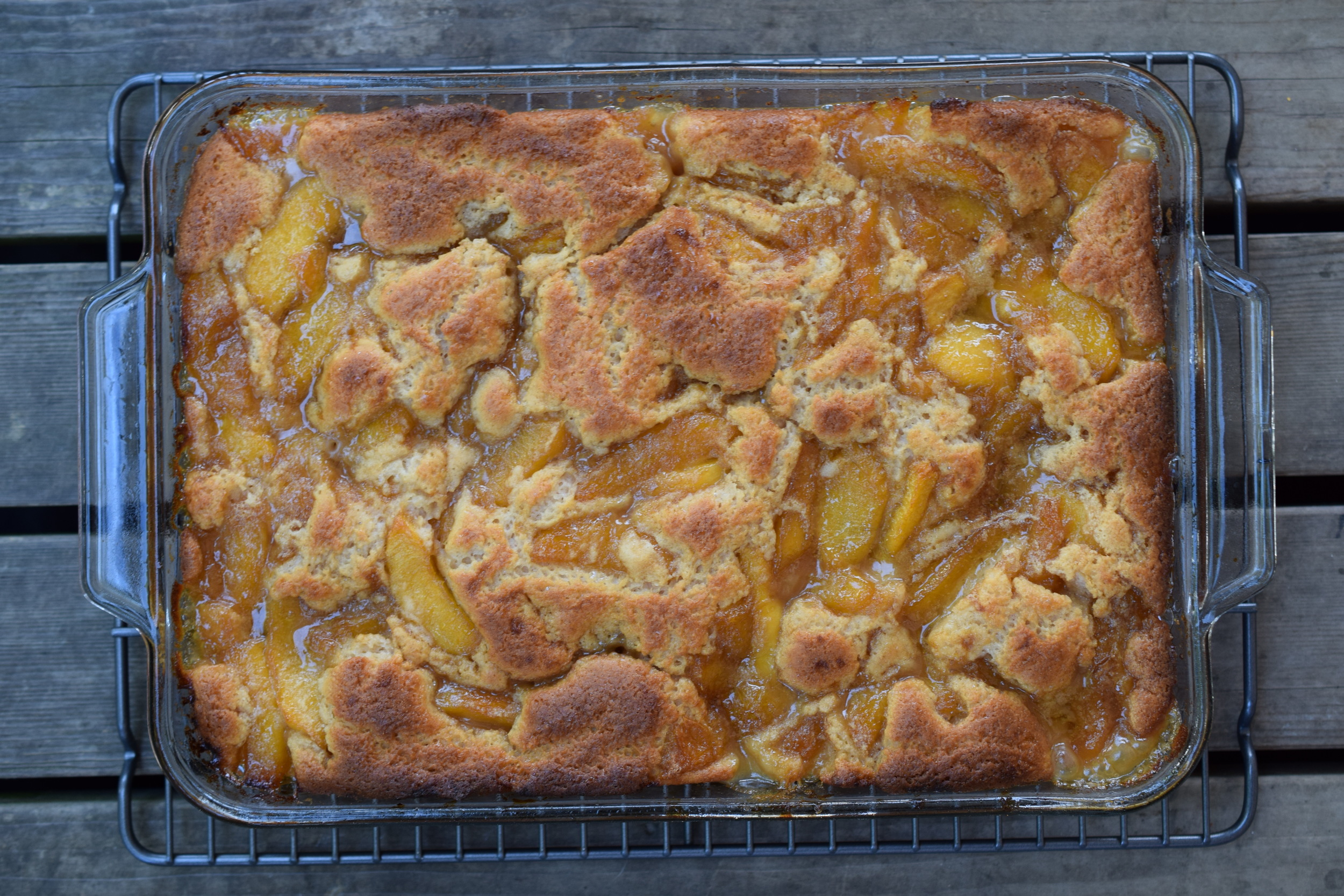 Peach Cobbler
When home in Seattle, one of my mom's most requested summertime desserts is my peach cobbler! And, quite frankly, I love making it! Given its popularity, I have decided to share my recipe with you so that you also can enjoy a delicious homemade peach cobbler any time you please.
Yield: 8 servings
Oven: 350ºF
Preparation time: 20 minutes
Cook Time: 1 hour
5 cups (about 7 medium size peaches) peeled and pitted peaches cut into 1/2-inch thick slices
3/4 cups packed dark brown sugar
1/2 cup water, room temperature
1 tablespoon vanilla extract or vanilla bean paste
2 tablespoons lemon juice, from one half lemon
1 1/2 cups self-rising flour
3/4 cup granulated sugar
1 1/2 cups low fat milk
1/2 cup (4-ounces, 1 stick or 8 tablespoons) unsalted butter, melted
Vanilla ice cream or whipping cream, to serve
Method:
1. Preheat oven to 350ºF.
To prepare the peaches:
2. In a medium size saucepan over medium – high heat, add peaches, brown sugar, water, vanilla extract, and lemon juice. Allow to cook while stirring until mixture comes to a boil. Reduce heat to medium and simmer while occasionally stirring until syrupy and peaches have softened, approximately 10 minutes.
3. Remove from heat and set to the side.
To prepare the batter:
4. In a medium size bowl, add flour and sugar whisking to combine. Add the milk and vigorously whisk until incorporated and no lumps appear.
To assemble the cobbler:
5. In a 9x13-inch rectangular baking dish, add melted butter tilting the sides so butter evenly coats the bottom and half way up the sides.
6. Pour the batter on top of the melted butter and without stirring, gently tilt the sides to ensure an even layer. If desired, use a spatula to carefully spread the batter in an even layer.
7. Using a large spoon, spoon the peach mixture evenly across the top and pour the remaining peach juice to cover. Do not stir!!! At this point, you may wonder how the cobbler will come together but trust me, the finished result is beyond spectacular!
8. Place on top of a baking sheet to collect any overflowing juices and place in preheated 350ºF oven until golden brown and juices are bubbling, approximately 40 – 45 minutes.
9. Remove from oven and allow to rest for 10 – 15 minutes at room temperature.
10. To serve, spoon into medium size serving bowls ensuring each portion has an even proportion of fruit to breading. Top with a scoop of vanilla ice cream or freshly whipped whipping cream and serve while hot!
Kitchen Note: If you want to experiment with an addition of blueberries or blackberries for a little pop of color, give it a try but act with patience as experimenting with baked goods can sometimes be temperamental.