Medjool Date Streusel Bars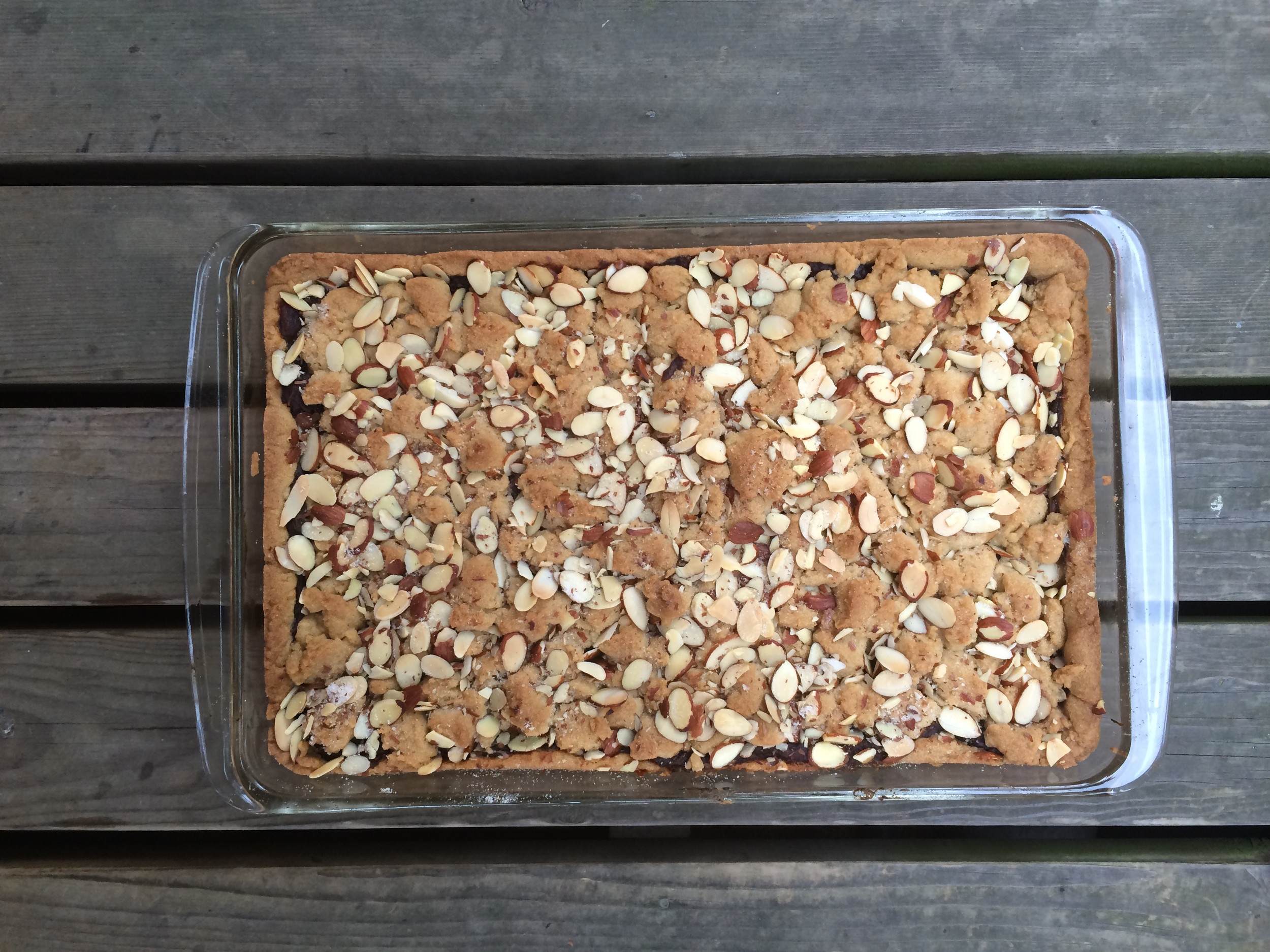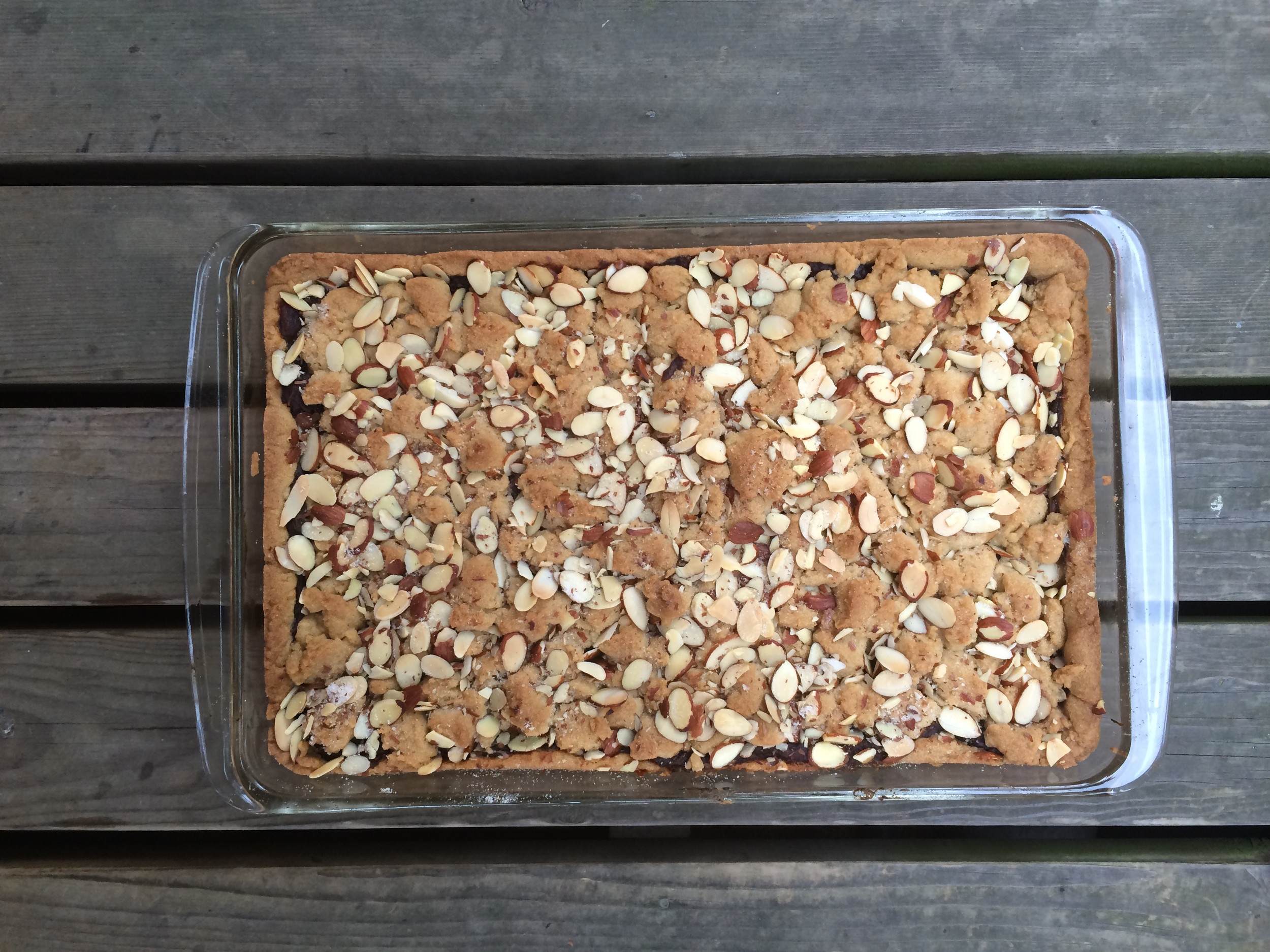 Medjool Date Streusel Bars
There is something about freshly cooked dates with a buttery streusel topping that is so hard to resist. Regardless of what it may be, these are absolutely delicious and a perfect option for a snack on the go. Plus, they are just as popular among kids as they are with adults. Now how is that for a win-win!
Yield: 1, 9x13 baking dish
Oven: 350ºF
Preparation time: 15 minutes
Cook Time: 35 minutes
Dates:
2 cups (1, 12-ounce container) Medjool dates, pitted, roughly chopped
1/2 cup granulated sugar
1 3/4 cups room temperature water
Streusel Topping:
1 cup packed light brown sugar
1/2 pound (2 sticks) unsalted butter, melted
2 teaspoons pure vanilla extract
2 1/4 cups all-purpose flour
1 3/4 cups old-fashioned oats (not instant)
1 teaspoon baking soda
1 teaspoon kosher salt
1/2 cup sliced almonds, toasted
1 tablespoon granulated sugar
Method:
1. Preheat oven to 350ºF.
To prepare the dates:
2. In a medium saucepan over medium heat, bring Medjool dates, sugar, and water to a boil while stirring. Once at a boil, reduce to a simmer uncovered and allow to cook while stirring and scraping the bottom (to prevent scorching) until the fruit has thickened and resembles a chunky jam, approximately 10 – 12 minutes.
3. Remove from heat and allow to cool until room temperature.
To prepare the streusel:
4. Lightly butter a 9x13-inch baking dish and set to the side.
5. In the bowl of an electric mixer fitted with a paddle attachment, add brown sugar, butter, vanilla extract, flour, old-fashioned oats, baking soda, and salt. Mix on low until dough comes together but is still crumbly.
6. Remove dough and divide into two equal portions. With one half, firmly and evenly press in the bottom of the 9x13-inch baking dish to form a crust. If you need more dough, use a little from the reserved second portion. Ensure to come up the sides of the dish at least 1/4-inch.
7. Pour the cooked date mixture on top and using dry clean hands, crumble the remaining half of dough to cover the dates.
8. Sprinkle sugar and toasted almonds to cover and place in preheated oven until golden brown and the center has set, approximately 25 minutes.
9. Remove from oven and allow to cool at room temperature for at least 25 minutes before slicing and serving.
Kitchen Note: Feel free to alternate the dates for any other type of dry fruit or fruit preserve, but keep in mind cooking times and yield from dry fruit may vary. If using freezer jam or fruit preserve, start with 2 cups and work your way from there.