Lemon Shortbread Icing Cookies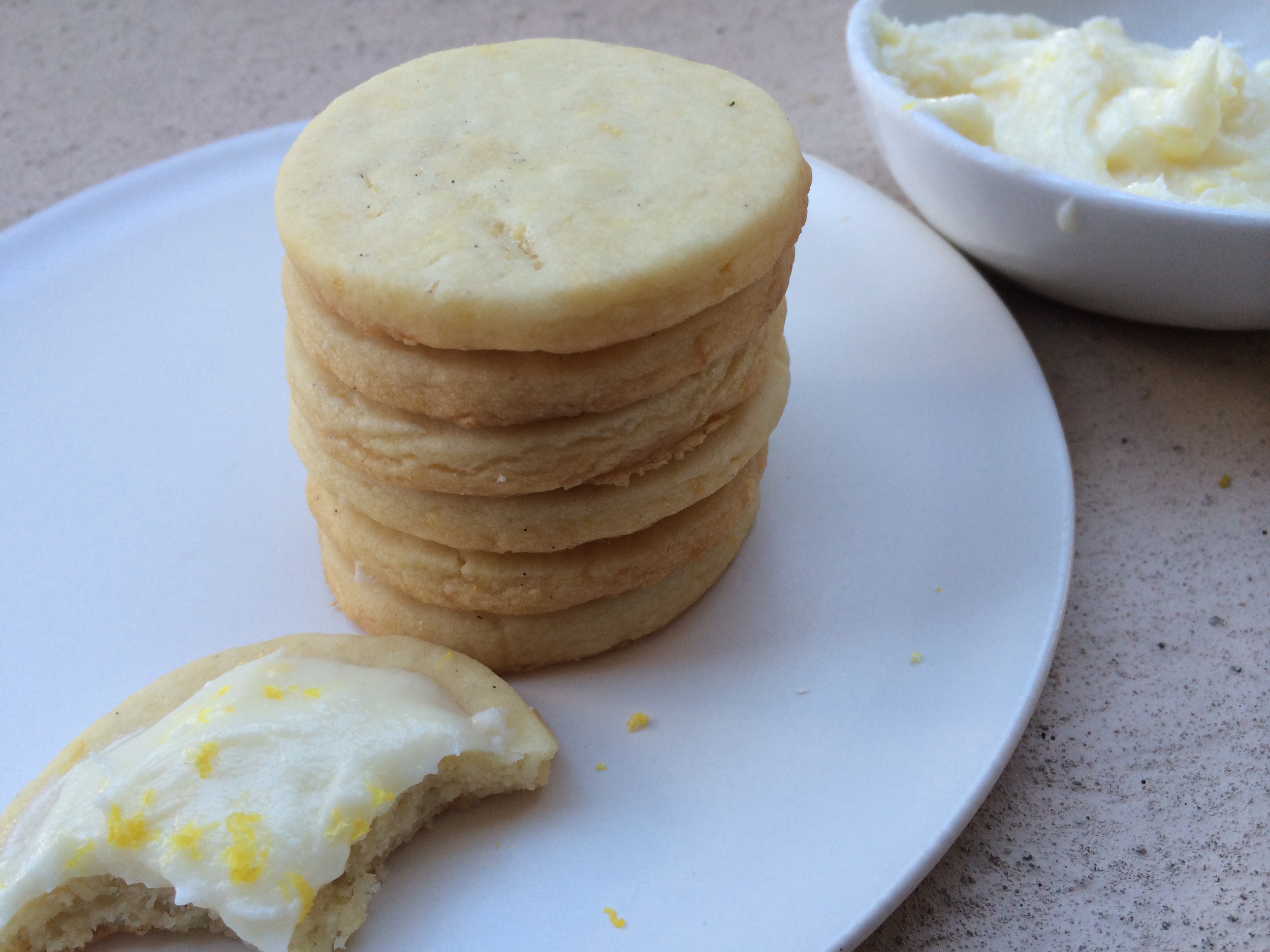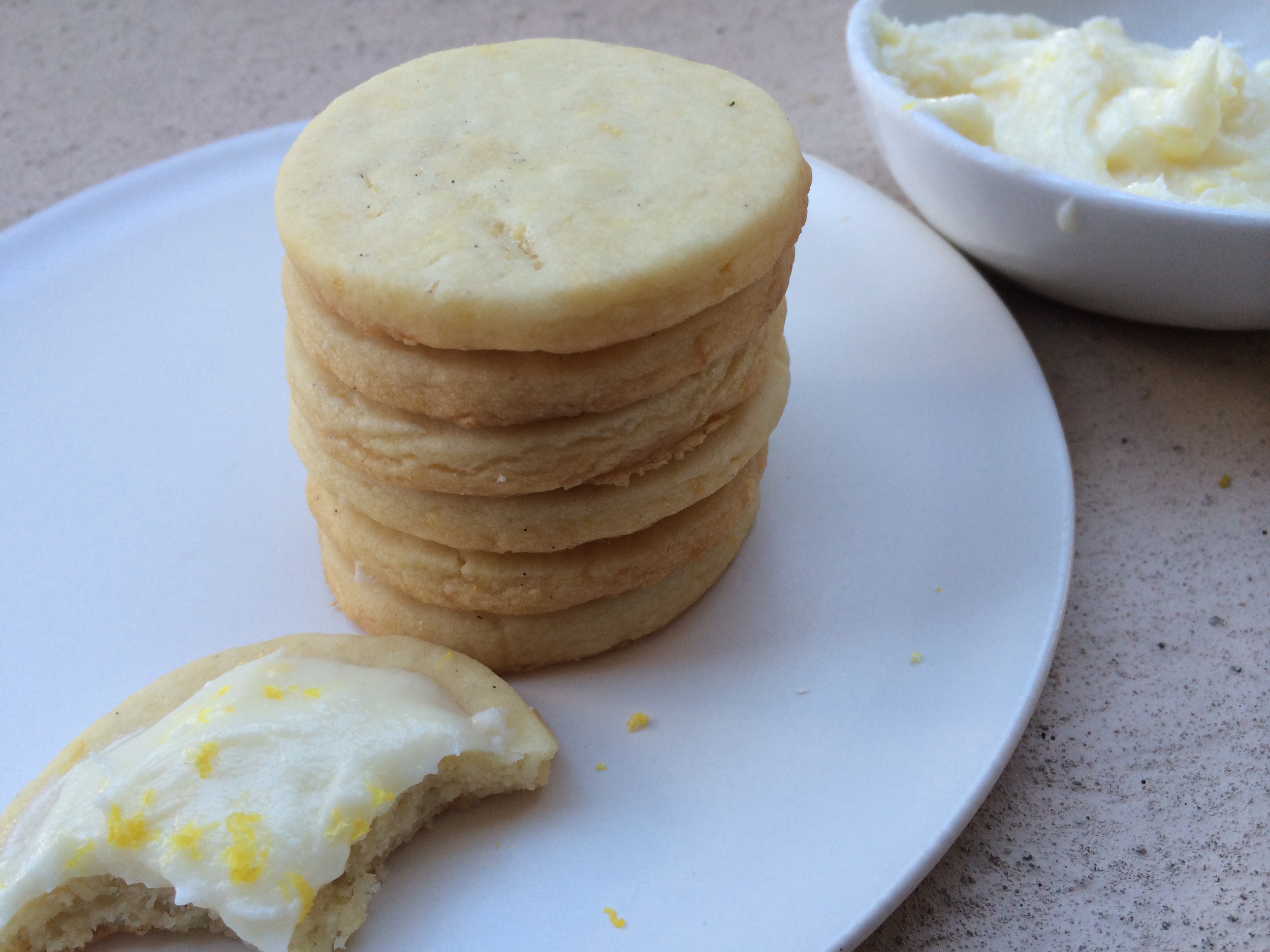 Lemon Shortbread Icing Cookies
Yield: 30 cookies
Oven: 325ºF
Preparation Time: 15 minutes + 1 hour refrigeration
Cook Time: 12 – 14
Cookies:
1/2 cup unsalted butter (1 stick or 4-ounces), room temperature
1 cup confectioner's sugar
2 tablespoons lemon zest, from approximately 2 – 3 medium size lemons
1 teaspoon pure vanilla extract
1/2 teaspoon kosher salt
2 cups unbleached all-purpose flour, plus more for rolling dough
Lemon Icing:
1/2 cup (4-ounces) mascarpone – see kitchen note
2 tablespoons lemon zest, from approximately 2 – 3 medium size lemons
1 1/4 cup confectioner's sugar
Garnish:
zest from 2 lemons
Method:
To prepare the cookies:
1. In the bowl of an electric mixer fitted with a paddle attachment, add butter, confectioner's sugar, lemon zest, vanilla, and salt. On high, mix until smooth, fluffy and light in color, approximately 2 minutes.
2. Add flour and mix on low until just combined, approximately 20 seconds. Note: Dough will look crumbly at first but will quickly come together.
3. Using dry lightly floured hands, remove dough from bowl and divide into 2 even portions. Place each on top of plastic wrap and cover with another piece of plastic wrap. Press down to form each disk approximately 1/2-inch thick. Tightly cover each with plastic wrap ensuring that they are completely covered and no dough is exposed.
4. Place in the refrigerator and allow to rest for 1 hour, or until firm.
5. Meanwhile, make the icing…
To prepare the lemon icing:
6. In the bowl of an electric mixer fitted with a paddle attachment, add mascarpone, lemon zest and confectioner's sugar. Mix on medium speed until smooth and fluffy and consistency resembles frosting, approximately 1 minute.
7. Cover with plastic wrap and place in the refrigerator.
To bake the cookies:
8. Remove dough from refrigerator and discard the plastic wrap.
9. On a lightly floured work surface, add dough and allow to sit at room temperature for 10 minutes.
10. Using a lightly floured rolling pin, roll each disk until 1/4-inch thick. As needed, continue to lightly flour the rolling pin, your hands and the cookie dough if it begins to stick. If dough begins to crack, allow to rest and warm ever so slightly at room temperature. If dough begins to get sticky or soft, place back in the fridge to chill and harden. Be careful to not over flour your workstation as the dough will become too dry.
11. Once dough has been rolled into 1/4-inch thickness, use a 2-inch diameter cookie cutter to shape each cookie. Note: it is important that each cookie is the same thickness and size to ensure even cooking time.
12. Place in preheated 325ºF oven for 12 – 14 minutes, or until the bottom is lightly golden. Note: The top of the cookie will not obtain much color so it is important to use the bottom edges as your indicator.
13. Remove from oven and allow to cool for 5 minutes. Transfer cookies to a wire rack to fully cool at room temperature.
To frost:
1. Once cookies are at room temperature, spread lemon frosting on top to cover. Using a microplane, zest fresh lemon on top and serve.
2. Cookies will keep in an airtight container for up to 1 week – if they make it that long!
Kitchen Note: If you do not have mascarpone, which is an Italian cream cheese, feel free to substitute for either low or full-fat plain cream cheese.