Banana Streusel Muffins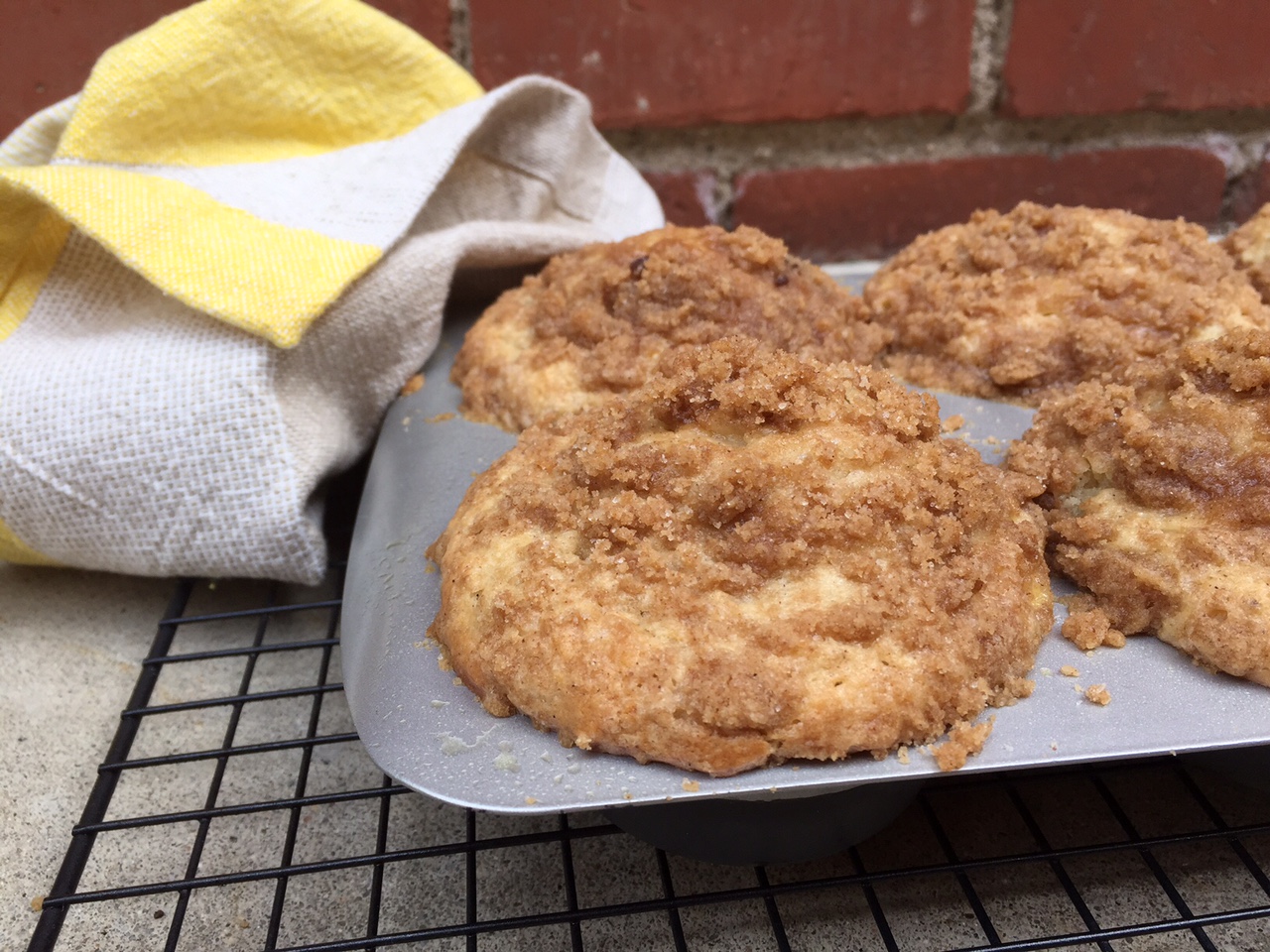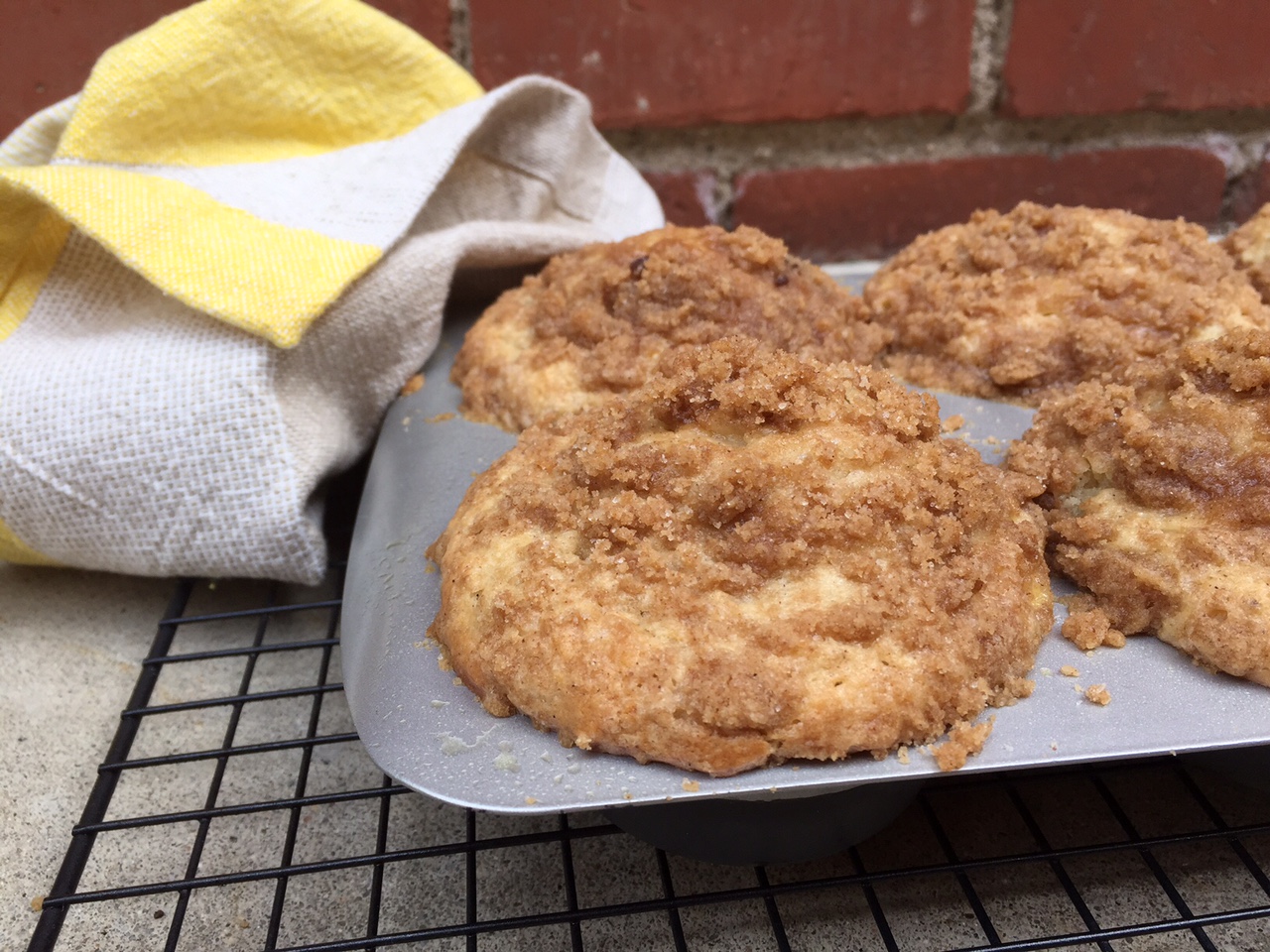 Banana Streusel Muffins
For those of you that love all things bananas (I knew I liked you) this one goes out to you! With a delicious streusel topping and sweet banana-y (yes, made that up) essence, you may want to head straight to the store on your way home!
Yield: 10 muffins
Oven: 375ºF
Preparation Time: 15 minutes
Cook Time: 20 minutes
2 cups all-purpose flour
1 cup granulated sugar
3/4 teaspoon baking soda
3/4 teaspoon salt
1 1/2 cups mashed ripe bananas (approximately 3 whole bananas) – use a fork to mash
1/4 cup butter, room temperature
1/3 cup low fat sour cream or low fat Greek or plain yogurt
1 teaspoon vanilla extract
2 large eggs, lightly whisked with a fork to just break the yolks
Streusel Topping:
1/4 cup granulated sugar
1/4 cup dark brown sugar
1/3 cup all-purpose flour
1/2 teaspoon ground cinnamon
1/4 cup cold butter, cut into 1/2-inch cubes
Method:
1. Preheat oven to 375ºF.
2. In a large bowl, add flour, sugar, baking soda, and salt. Whisk gently to combine and set to the side.
3. In the bowl of an electric mixer fitted with a paddle attachment, or alternatively in a large bowl with a hand whisk, add bananas, butter, sour cream or yogurt, and vanilla extract until just incorporated.
4. Add eggs, one at a time scraping down the sides of the bowl before the next addition. Be careful to not over-mix.
5. Add dry ingredients to wet, mix until just combined.
To Prepare the Streusel:
6. In a small bowl, combine both sugars, flour and cinnamon. Using a pastry cutter, or clean dry hands, "cut in" the butter by gently breaking down (cutting) the cubed butter – as it absorbs the dry ingredients – until mixture is crumbly (flour has been absorbed by the butter) and pieces (butter) are the size of peas. Note: If using your hands, work quickly so the butter doesn't melt. Set to the side.
To Assemble and Bake:
7. Line 10 muffin tins with paper muffin wrappers or generously grease with baking spray or melted butter. Using a cookie scoop, evenly divide batter ensuring there is at least 1/4 inch from the top.
8. Using clean dry hands, evenly distribute the streusel to fully cover each muffin top. Place in preheated 375ºF oven and allow to bake until light golden brown in color and an inserted toothpick comes back with a few crumbs attached but no batter, approximately 20 minutes.
9. Remove from oven and allow to cool on a cooling rack for 15 minutes before inverting and enjoying!
10. If storing for later, make sure the muffins have fully cooled before storing in an airtight container.
Kitchen Note: Feel free to omit the streusel and cover with chopped pecans or walnuts instead.