Quinoa Zucchini Fritters with Cumin Yogurt Sauce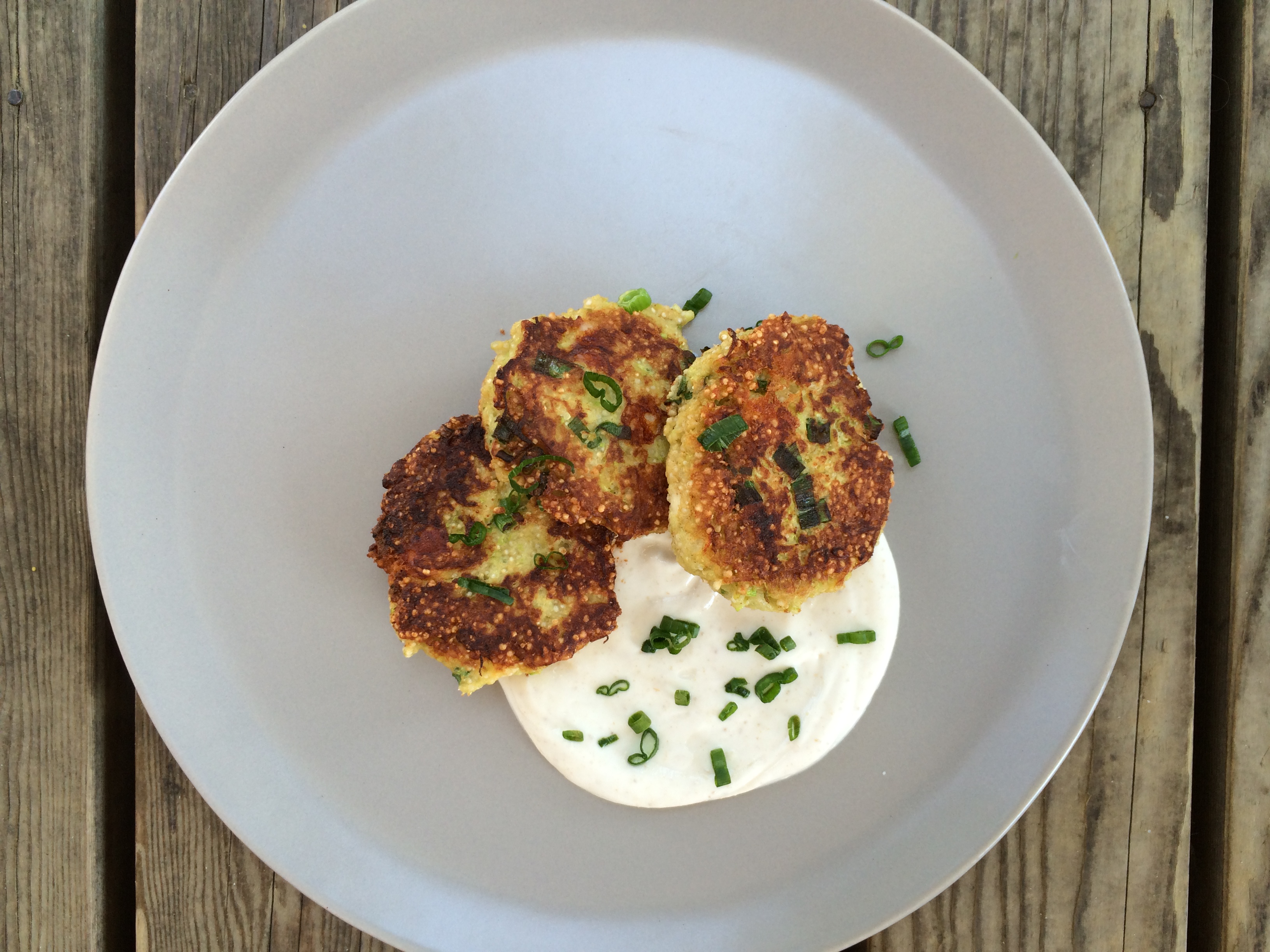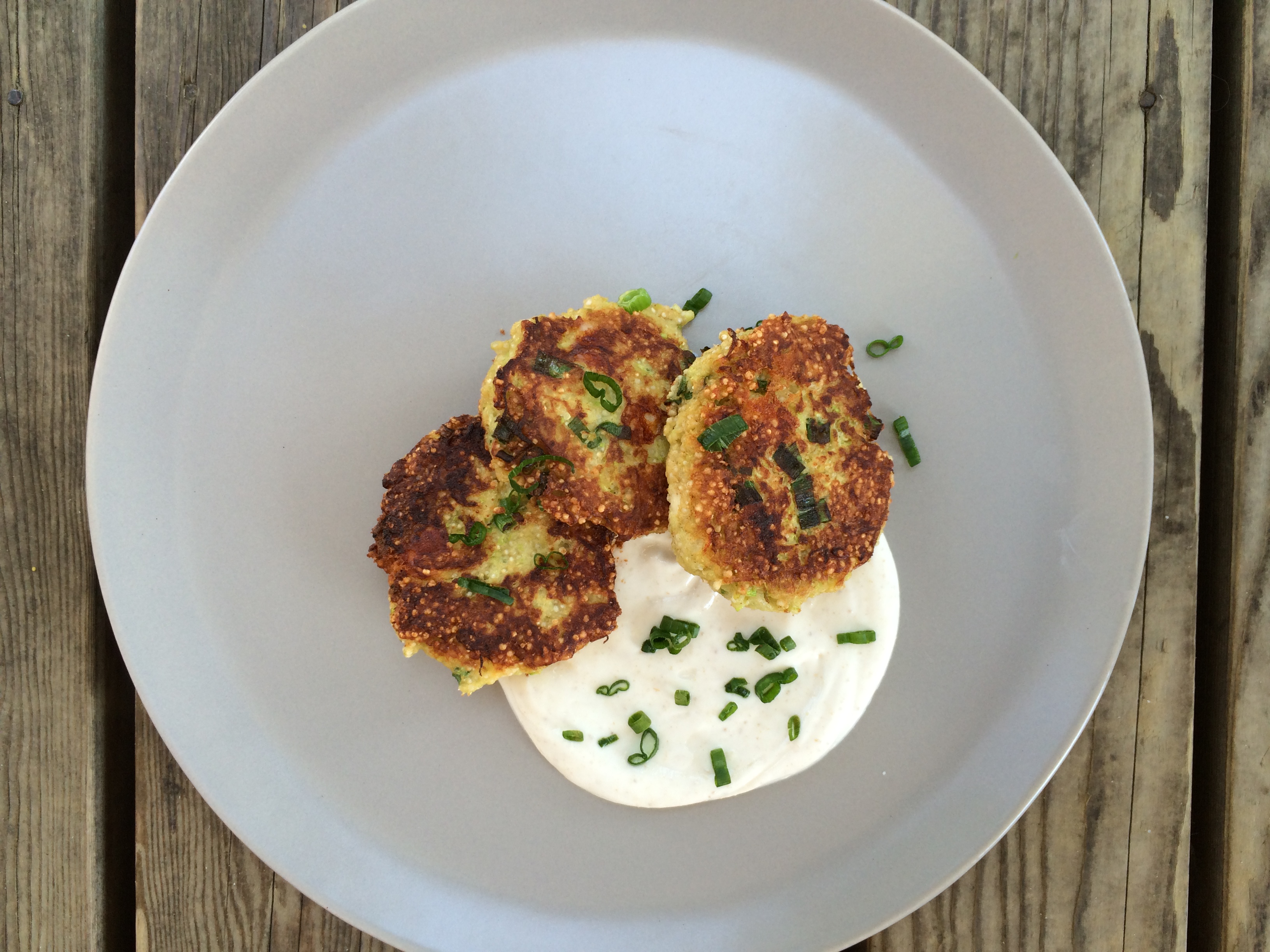 Quinoa Zucchini Fritters with Cumin Yogurt Sauce
I am constantly trying to find ways to make delicious and healthy gluten-free meals for my gluten-free friends. This fritter uses ground quinoa instead of flour while maximizing on flavor. Dip it in cumin yogurt sauce and even your gluten-fans will love it!
Yield: 4 servings (8 fritters)
Oven: N/A
Preparation time: 15 minutes
Cook Time: 8 minutes (4 minutes per batch)
Fritters:
2/3 cup uncooked quinoa
2 medium zucchini, peeled, finely grated (approximately 1 cup)
4 green onions, thinly sliced
1 garlic clove, finely minced
1/2 cup crumbled feta
2 large eggs, lightly whisked to break yolks
kosher salt, as desired
3 tablespoons vegetable oil
Cumin Yogurt Sauce:
2/3 cup plain Greek yogurt
1/4 teaspoon ground cumin
2 teaspoons lemon juice, from approximately half lemon
Method:
1. In a food processor, add quinoa and process until finely ground, approximately 5 minutes.
2. Meanwhile, using clean hands, squeeze as much water from the zucchini as possible. On a small baking sheet, spread zucchini in a thin layer. Using paper towels, press down to absorb excess moisture. Repeat with dry towels until as dry as possible.
3. In a small bowl, add zucchini, green onions, garlic, crumbled feta, eggs, ground quinoa, and salt to season. Stir until evenly incorporated.
4. In a heavy bottom fry pan over high heat, add 2 tablespoons vegetable oil and allow to heat, approximately 1 minute.
5. Using a cookie scoop or kitchen spoon, scoop zucchini mixture into 2 tablespoon portions using your hands to shape them into a ball. Add them to the hot pan using a spoon to press them into a 1/4-inch thick round fritter. Repeat with the remaining mixture allowing at least 1-inch from one fritter to the next. If needed, do these in two batches adding more vegetable oil before the next addition. Cook until golden brown in color, approximately 2 1/2 minutes, before flipping and cooking the second side until also colored, an additional 1 – 2 minutes.
6. Transfer to a paper towel lined plate and repeat with the remaining fritters.
To make the cumin yogurt sauce:
7. In a small bowl, whisk together yogurt, cumin and lemon juice. Adjust seasoning to taste with more lemon juice if desired.
8. Serve fritters with a dollop of cumin yogurt sauce to finish.
Kitchen Note: Feel free to add more cumin to the yogurt sauce and even cayenne pepper for a bite of heat.