Macaroni & Cheese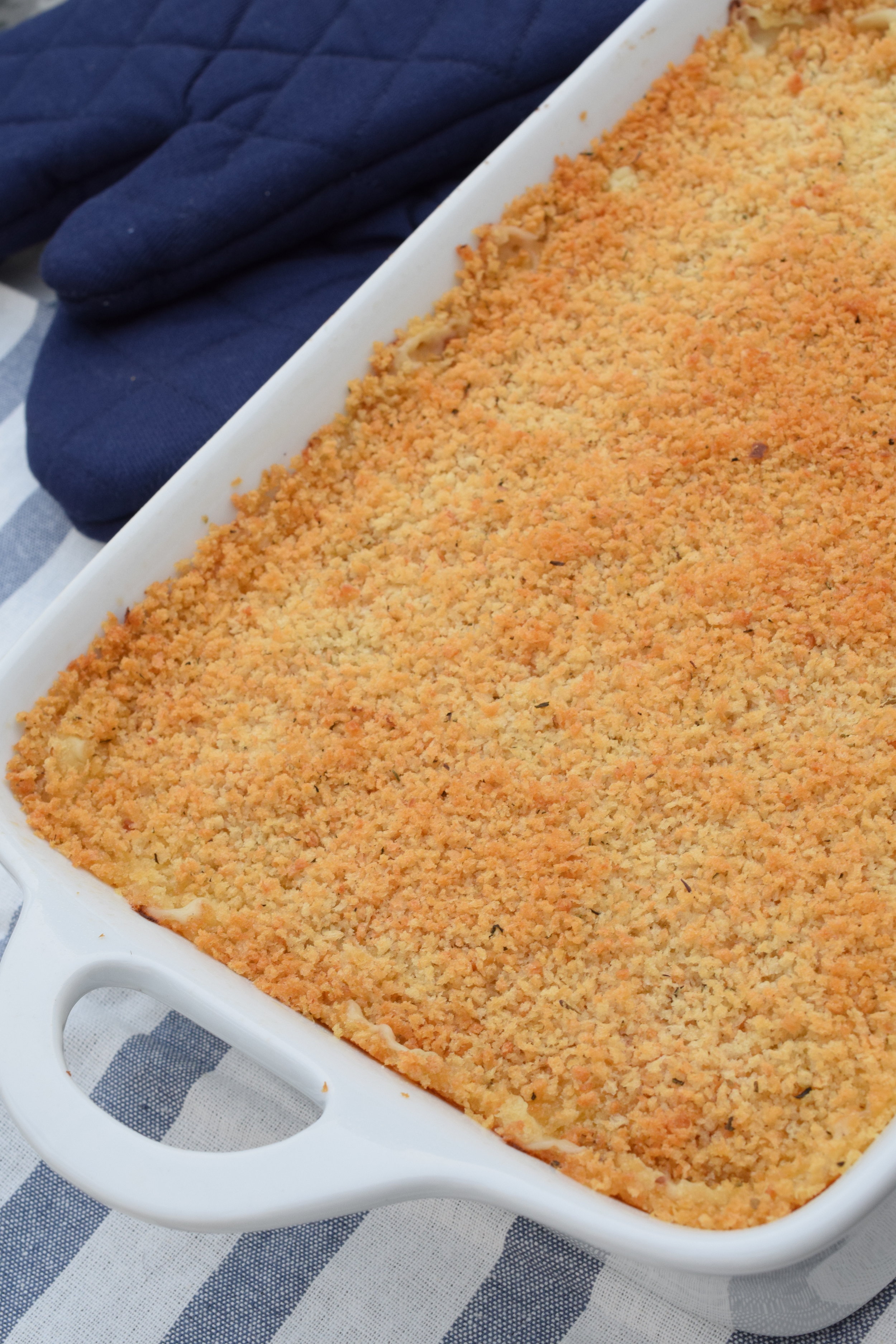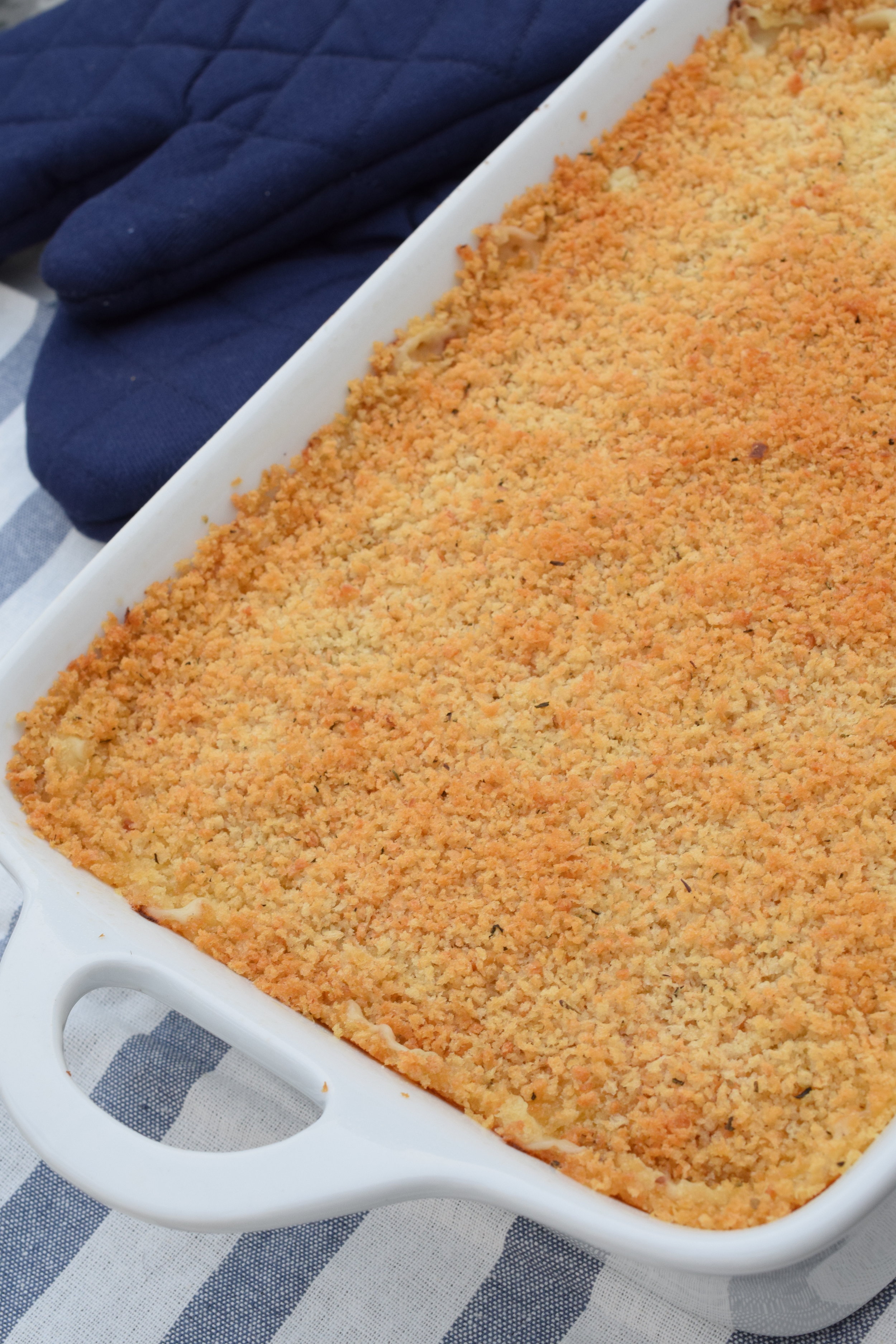 Macaroni & Cheese
Growing up, my mom always made us mac and cheese when the babysitter came over. In a way, we were thrilled for our favorite cheesy casserole, but in another we knew they were headed out for the night. The babysitter didn't come often, so we started to look forward to those nights when they did so we could have homemade mac and cheese. To this day, I always remember that when I make it, even though we have outgrown the sitter. The best part to this day, is that I never feel too "grown up" to enjoy it!
Yield: 6 – 8 servings
Oven: 375ºF
Preparation time: 15 minutes
Cook Time: 50 minutes
generous pinch kosher salt, to season pasta water
2 pounds dry large shell pasta noodles (or desired preference)
2 cups breadcrumbs
1 tablespoon unsalted butter, melted
3/4 cups unbleached all-purpose flour
1 1/2 sticks (6-ounces or 12 tablespoons) unsalted butter, melted
6 – 7 cups whole (or low-fat) milk, heated to simmer
1/4 teaspoon ground nutmeg
4 cups grated cheddar cheese
5 cups grated mozzarella cheese
kosher salt, as needed
freshly ground black pepper, as needed
1 tablespoon unsalted butter, melted to grease baking dish
2 cups grated Parmesan Cheese
Method:
1. Preheat oven to 375ºF.
2. In a large pot with boiling salted water, cook pasta according to package directions, approximately 10 – 12 minutes.
3. Meanwhile, prepare the breadcrumbs.
To prepare the breadcrumbs:
4. In a food processor, add breadcrumbs and melted butter. Pulse until mixture resembles coarse salt or sand. Set to the side.
5. Once the pasta is al dente, strain and quickly rinse with cold water to stop the cooking process. Set to the side to fully drain.
6. Return pot to the stove and add butter. Over medium heat, allow butter to melt. Add flour and using a whisk, continue to whisk until tan in color and beginning to thicken, approximately 1 – 2 minutes.
7. While still over medium heat, whisk in the heated milk starting with a cup at a time. Continue to whisk until milk is incorporated and mixture is starting to thicken, approximately 20 seconds between each addition of milk. Note: Use the full 6 cups and 7 cups if thinner consistency is desired. Continue until all of the milk has been added and contents coat the back of a spoon. Remove from heat, add nutmeg, both cheeses and salt and pepper to taste.
8. Add the cooked pasta to the béchamel (milk, butter and flour mixture) and stir to combine.
9. Lightly grease a 9x13-inch baking dish with1 tablespoon of melted butter.
10. Transfer pasta mixture to the prepared baking dish and spread into an even layer. Sprinkle the top with Parmesan cheese to cover. Cover with breadcrumbs and place in preheated 375ºF oven until brown on top and bubbling, approximately 35 minutes.
11. Remove from oven and allow to set at room temperature for 10 minutes before serving.
Kitchen Note: Adding fresh or dry herbs to the breadcrumbs as you pulse them in the food processor is a great way to add additional flavor and in a way, make it more "grown up." Adding tomatoes, ham or crispy bacon is another way to take an ordinary everyday Mac and Cheese to the next level.