Spring Asparagus Tart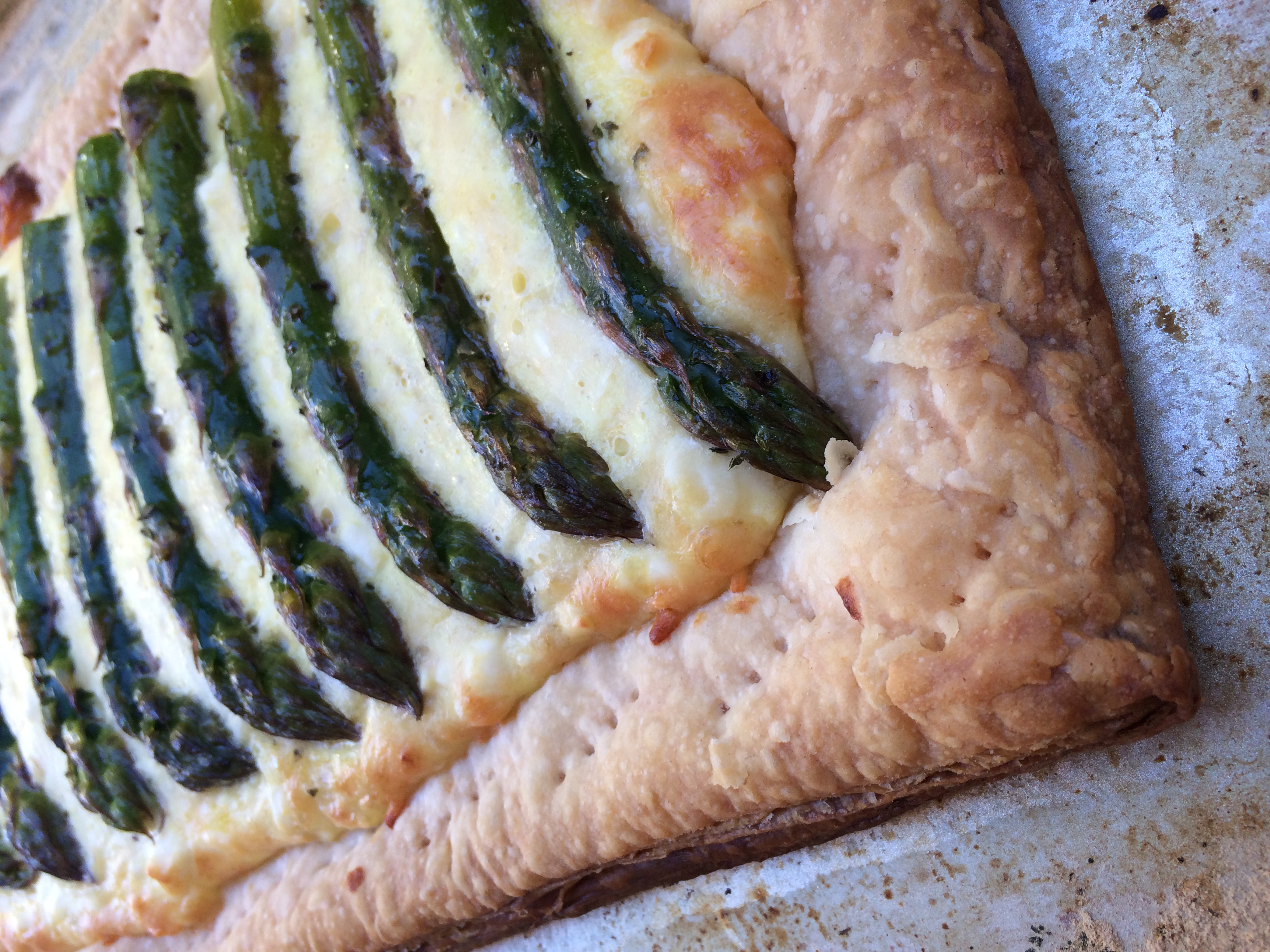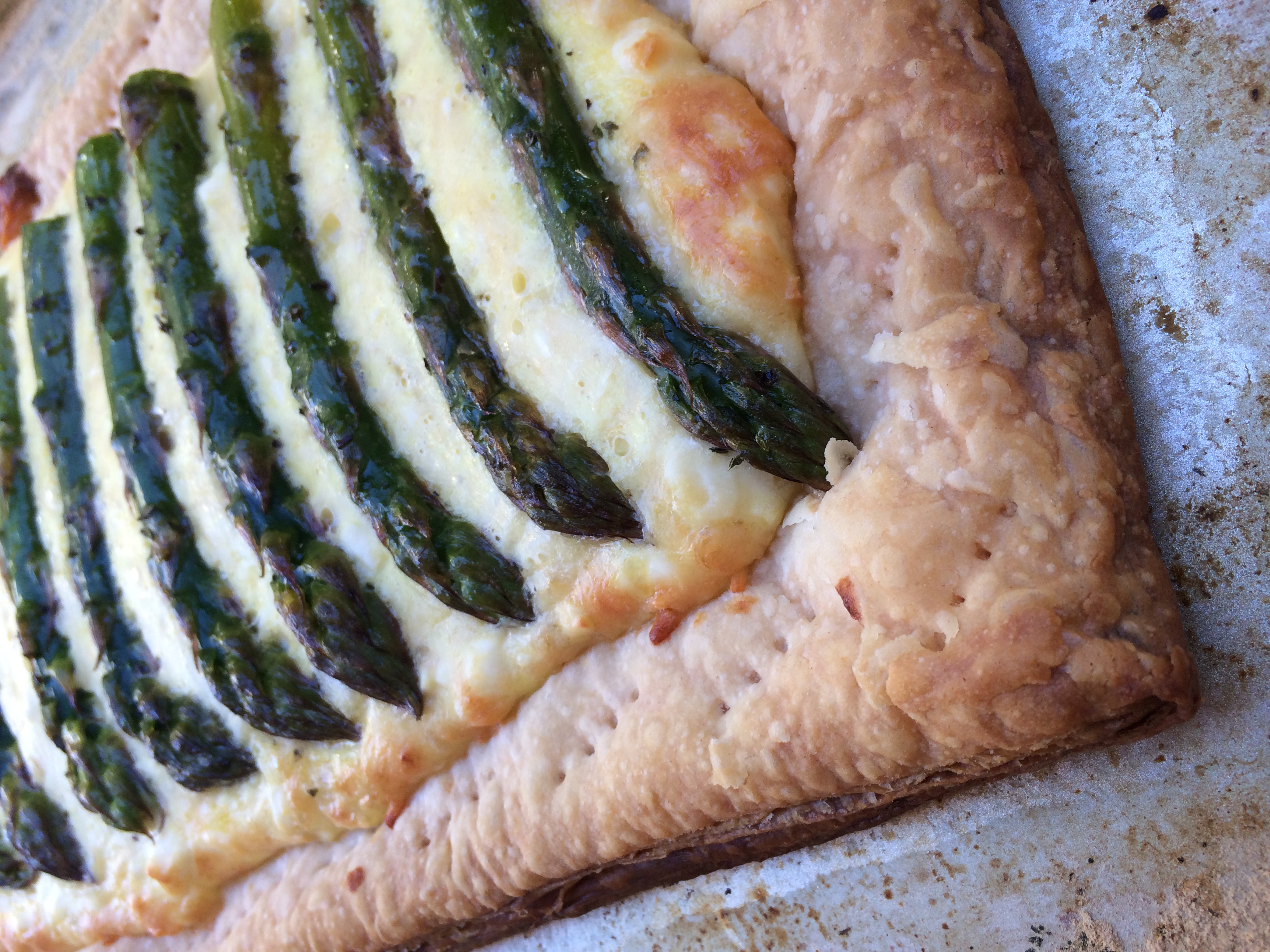 Spring Asparagus Tart
When spring hits, there is nothing more show-stopping or delicious than a beautiful and seasonally inspired asparagus tart. This tart is easy to make and offers a great spread when hosting brunch or lunch. However and whenever you enjoy it, don't be surprised if your guests designate your home as the new brunch spot.
Yield: 4 servings
Oven: 400ºF
Preparation time: 10 minutes
Cook Time: 30 minutes
1 bunch (approximately 1 pound) asparagus, woody stem ends trimmed
1 sheet puff pastry (9x8-inches), thawed
1/2 cup grated gruyere cheese
1/2 cup crumbled feta cheese
1/2 cup grated Parmesan cheese
1 small shallot, minced
1 garlic, minced
2 large egg yolks, lightly whisk to break yolks
1/4 cup whole milk
1 tablespoon olive oil
1 teaspoon dry oregano
kosher salt, as desired
Method:
1. Preheat oven to 400ºF.
To prepare the asparagus:
2. In a medium pot of boiling salted water over medium heat, add asparagus and cook until bright green and crisp, 3 minutes. Drain and immediately transfer the cooked asparagus to an ice water bath to quickly cool. Once cool, remove from water and dry with paper towels.
To prepare the puff pastry:
3. On a floured surface, roll out the puff pastry into a 9x12-inch rectangle. Using a dinner fork, poke several holes across the surface of the puff pastry. Gently transfer to a parchment lined baking sheet and place in preheated 400ºF oven. Bake until light golden in color and slightly puffed, approximately 10 – 12 minutes. Remove from oven and allow to cool.
To prepare the filling:
4. In a medium size bowl, add the gruyere, feta and Parmesan cheeses, shallot, garlic, egg yolks, milk and a generous pinch of salt and pepper. Using a rubber spatula, stir to combine.
5. Spread the cheese and egg mixture on top of the prepared puff pastry leaving a 1/2-inch border around the perimeter. Spread into an even layer.
6. Toss the prepared asparagus with olive oil, dried oregano and a pinch of salt. Neatly arrange them in a single and orderly fashion covering the egg and cheese mixture.
7. Place in preheated 400ºF oven until golden in color and the filling has set, approximately 25 minutes.
8. Remove from oven and allow to sit at room temperature for 10 minutes before cutting into desired size pieces.
Kitchen Note: Feel free to play around with your cheese and even spices like fontina in place of the feta and Herbs de Provence, thyme or even rosemary for the oregano.